February 16, 2022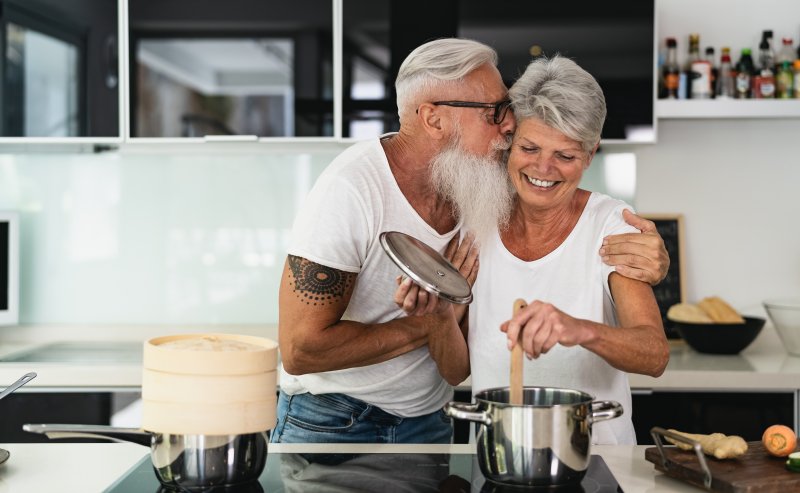 Valentine's Day is coming up! Do you have plans for how to spend this day of love? If you and your long-time partner are planning to spend time together or you'll be taking out a new Valentine's Day date, you may have smooching on the brain. Though this may not usually be much of a hurdle, is kissing with dentures any different? Read on to learn if it's possible to kiss your partner while wearing these restorations.
Can You Kiss with Dentures?
If you're worried that kissing with dentures is a no-go, don't be! Smooching your partner while wearing your replacement teeth is very doable. As long as your dentures are held firmly in place, kissing with them should be just as easy as doing so with your natural smile. Just make sure to take it slow to ensure that everything goes smoothly and remember that you'll get more comfortable with practice!
Tips for Date Night with Dentures
While you may feel a bit nervous before your Valentine's Day date, there's no need for your dentures to be an additional stressor. Some things that will help you smoothly make it through your date include:
Watch what you eat –Whether you decide to prepare a meal at home or to take your loved one out for Valentine's Day, make sure to be careful of what you eat. Foods that are overly hard or sticky may cause your restorations to move out of place. Additionally, make sure to cut your food into small pieces so you can chew it without having to worry about your dentures moving around.
Practice talking beforehand – If your denturesaren't sitting in your mouth properly, they may move around while you speak or cause a lisp. To make sure that the conversation goes smoothly throughout the night and you're able to woo our partner with your smooth talk, practice talking before the date.
Use denture adhesive – Though using denture adhesive isn't mandatory, it can help keep your restorations in place. This will make it easier for you to get through the date without having to be self-conscious about your restorations shifting while you eat, speak, laugh, and smooch the night away.
Keeping Your Breath Clean & Fresh
Along with the above tips to ensure that your restorations remain stable and realistic looking, another way to have a successful date is to keep your breath fresh. I few tips for keeping bad breath at bay if you plan on kissing with dentures include:
Practice great oral hygiene – Make sure to clean your restorations every night before bed to keep them clean and bacteria-free.
Soak your dentures – Do this every night to get rid of any bacteria that's left after you finish cleaning them.
Drink plenty of water – This will help prevent dry mouth and keep your breath fresh.
Limit smelly foods – Coffee, onions, and garlic are a few things that can give you bad breath and should be consumed in moderation or avoided.
Visit your dentist – Biannual checkups and cleanings allow your dentist to ensure that no oral health issues have developed and your restorations are working as intended.
As you can see, kissing with dentures is no problem as long as they're stable. Soon, you'll be enjoying a smooch-filled Valentine's Day!
About the Practice
Kissing with dentures will be no issue this Valentine's Day with Bradford Young Family & Cosmetic Dentistry. They can ensure that your restorations fit properly to lessen the risk of them slipping while you smooch your loved one. This will ensure that your date goes smoothly and it's a night to remember! To make an appointment with Bradford Young Family & Cosmetic Dentistry or for more information on their services, visit their website or call (610) 439-1363.
Comments Off on Everything You Need to Know About Kissing with Dentures
No Comments
No comments yet.
RSS feed for comments on this post.
Sorry, the comment form is closed at this time.