Dental Crowns & Bridges– Allentown, PA
Replace and Restore Teeth For A Fully Functioning Smile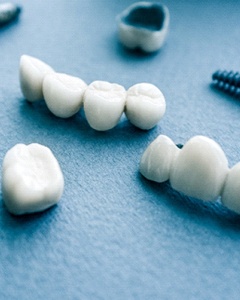 Whether you've already lost a couple of teeth or you're trying to restore a damaged tooth, Dr. Bradford Young offers custom-crafted restorations like dental crowns and bridges that blend in with the rest of your smile. Because your teeth are constantly being used to chew and speak, it makes sense they would become worn-down or damaged over time. In fact, according to the American College of Prosthodontists, an estimated 178 million people in the United States are missing at least a single tooth. At Bradford Young Family & Cosmetic Dentistry, we're here to help you restore your smile to its natural look, feel and function. Our Allentown, PA dental practice offers restorative dental care to meet the tooth replacement needs of any patient.
What is a Dental Crown?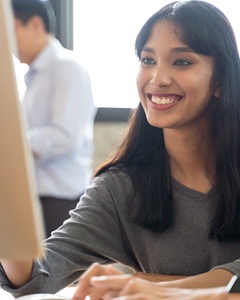 A dental crown in Allentown replaces and restores the biting surface of a damaged tooth. They are custom-made to blend into your bite, leaving you with a seamless smile. At Bradford Young Family & Cosmetic Dentistry, we practice conservative dentistry. That means we always try to retain the optimum amount of tooth structure while removing any damage or decay. Whenever we are able, we will maintain as much of your natural tooth as possible and cover it with a customized crown. If it is not possible to retain enough of the dental structure, we will need to use a crown and bridge to replace the tooth.
Benefits of Crowns
Dental crowns are incredibly versatile restorations. If you're not sure whether getting one is the right choice for you, don't hesitate to talk to Dr. Young about all of your options. We want you to feel confident and comfortable that you're making the right choice for you, which is why we're here to help! Some benefits of custom crowns are:
A long-lasting restoration solution.
Made from quality, natural-looking materials.
Custom-fitted to your teeth for maximum comfort.
Easy to maintain.
What is a Fixed Bridge?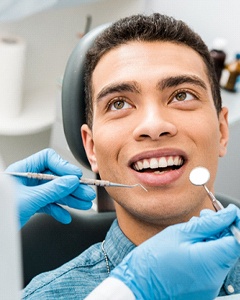 Like a bridge over a river, a dental bridge in Allentown is used to connect one side of an empty space to another. This is done by placing dental crowns on each tooth on either side of the gap in your mouth. These crowns are then connected to one or more replacement, "bridge," teeth. The final result is a fully restored smile that looks 100% natural and feels great too. Bridges are a great restoration for patients who are missing between one and three consecutive teeth. For patients missing nonconsecutive teeth or more than three in a row, full and partial dentures may be the best solution.
Benefits of Bridges
Many patients turn to dental bridges because they want to restore their smile and ability to complete basic everyday functions like chewing and speaking. Some other benefits include:
Maintaining the alignment of your remaining teeth.
Evenly distribute your bite force.
Restoring your smile and boost your confidence.
Custom-made to match the appearance of the rest of your teeth.
Implant-Supported Restorations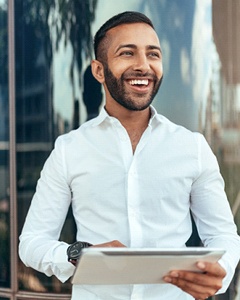 We are also proud to offer dental implants to replace any number of missing teeth, from a single tooth replacement to a full arch restoration. Dental implants restore your teeth from the roots up, unlike any other traditional restoration. The titanium posts are fused with your jawbone to replace the roots of your missing teeth, encouraging blood flow and preventing bone loss.
At Bradford Young Family & Cosmetic Dentistry, we're always here to help you meet your oral health care needs. From tooth replacement to emergency dental care, our knowledgeable team is here to help you create and maintain a picture-perfect smile you'll be proud to share. Call to schedule an appointment today.