Dental Implants – Allentown, PA
A Permanent Solution for Missing Teeth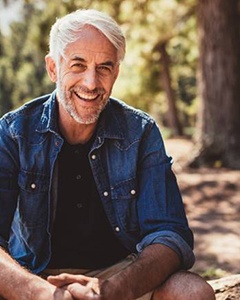 Losing one or more teeth is devastating, both for a patient's oral health and their self-esteem. In today's world, there are plenty of options to choose from when it comes to replacing missing teeth. Dentures and dental bridges certainly look realistic, but they don't feel quite as natural as your old pearly whites. That's what makes dental implants different. They replace every part of a missing tooth, creating a more lifelike and durable solution. Dr. Bradford Young partners with trusted local specialists to deliver top-notch treatment. To learn more about how dental implants in Allentown can revitalize your smile, call our friendly team today!
Why Choose Bradford Young Family & Cosmetic Dentistry for Dental Implants?
Works with Dental Implant Specialists in the Allentown Area
Reasonable Pricing & Flexible Financial Options Available
State-of-the-Art Dental Technology Used
What Are Dental Implants?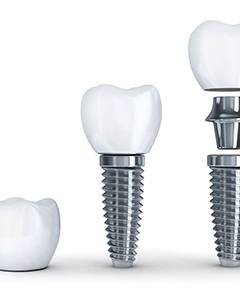 Dental implants are the only tooth loss solution that recreates the entire structure of a missing tooth, including the root that is hidden beneath the gums. To accomplish this, a small titanium post is inserted into the jawbone where the tooth's root once was. Then, a process called osseointegration occurs. The jawbone actually fuses to and grows around the implant post. Not only does this promote a healthier jawbone, but it creates a strong foundation for any number of replacement teeth. A metal abutment fixture is secured on top of the implant, allowing it to support a custom-made dental crown, bridge, or denture.
By replicating every part of a lost tooth, you end up with a solution that looks, feels, and functions as if it were natural. Plus, osseointegration allows your implant to potentially last for decades, if not for the rest of your life. That's why dentists all around the world often recommend dental implants for patients suffering from tooth loss.
The 4-Step Dental Implant Process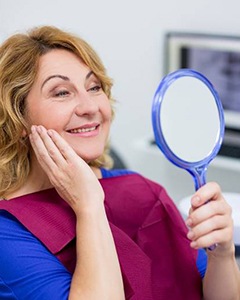 Rebuilding a tooth from the root up through the crown is a complex process. Therefore, getting dental implants can take several months to a year or longer. That said, their long-term benefits make them worth waiting for!
Dr. Young can outline the basics of the dental implant process at your appointment. He is happy to recommend a trusted specialist in the area to handle the surgical portion of your dental implant procedure. While no two patients' tooth replacement journeys look exactly the same, most go through four basic steps: consultation, dental implant surgery, osseointegration, and delivery of the restorations.
Benefits of Dental Implants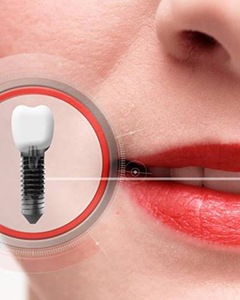 Dental implants can bring you many advantages, but here are some of the most popular:
Dental implants stimulate your jawbone, keeping it healthy and strong.
Because they fuse to your jawbone, dental implants allow for maximum biting power to eat all of your favorite foods.
Maintenance and care are similar to your current at-home brushing and flossing routine.
A dental implant is more secure and stable than a traditional cemented crown or removable dentures and reduces possible gum tissue irritation.
When properly maintained with oral hygiene and biannual dental checkups, dental implants can last 40 years or more, making them an effective long-term treatment for patients.
Who Dental Implants Can Help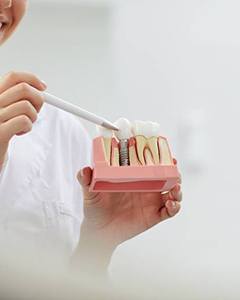 One of the many reasons that we offer dental implants is their versatility. They can be used to replace one tooth, multiple teeth, or even full smiles. We restore our dental implants with various options depending on your needs.
Missing One Tooth
Dr. Young can place a dental crown atop a single implant post to seamlessly complete your smile. This restores its appearance and function. Plus, single-tooth implants help prevent the need for more major dental procedures in the future by stopping the shifting of your remaining teeth.
Missing Multiple Teeth
If you're missing multiple teeth consecutively, we will use an implant-supported dental bridge to literally bridge the gap in your smile. Using an implant on either side, Dr. Young will give you a natural-looking and stable prosthetic.
Missing All Teeth
Are you missing all or most of your teeth? Our team combines custom-made dentures with dental implants to give you implant dentures. This allows for the replacement of all of your teeth at once with the stability and health benefits of dental implants.
Understanding the Cost of Dental Implants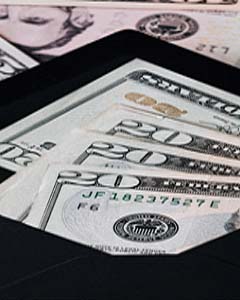 Dental implants are attributed to a large price tag, but they are more affordable than many people realize. Various factors contribute to the cost of dental implants in Allentown, but Dr. Young strives to keep them affordable. Our office offers multiple financial solutions to keep a complete smile within your budget.
Preliminary Treatments & Dental Implant Surgery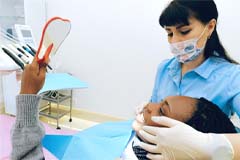 Recreating both the root and crown requires a multi-step process, which has separate costs. Therefore, you don't have to worry about paying the entire amount up front, making it easier to afford your new smile. There's not a flat rate for a dental implant because every mouth and situation differs. Your implant dentist in Allentown, Dr. Young, will create a personalized strategy to replace your missing teeth. Although every situation is unique, you can expect your estimate to include:
Preparatory Treatments: It's not unusual to require a little prep work, like tooth extractions or gum disease therapy.
Placement Surgery: Sedation or anesthesia is used to keep you comfortable as titanium posts are placed into your jawbone.
Materials: You'll pay more for high-quality materials, but they have a better success rate and lifespan.
Number of Teeth: The more teeth you're treating, the larger the restoration.
Don't worry, you will know exactly how much you will have to pay before committing to anything.
The Parts of Your Dental Implant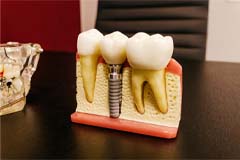 A dental implant is unique because it recreates the entire tooth. You'll have to pay for each component needed to complete your smile, which includes:
Post: A titanium post is surgically placed into the bone to serve as a root.
Abutment: Each post needs an abutment to connect the restoration.
Restoration: Depending on the number of teeth you're treating, you'll need either a crown, bridge, or denture.
How Dental Implants Can Save You Money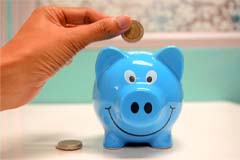 Dental implants are an investment in your quality of life and future oral health expenses. As the only treatment to mimic the entire tooth structure, a dental implant looks and feels real. With the post serving as a root, it stops bone loss associated with missing teeth to prevent dental problems. Not to mention, dental implants are proven to last for decades, so you won't have to pay for replacements every few years, like with traditional prosthetics.
Does My Dental Insurance Cover Dental Implants?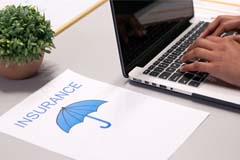 Most dental plans can be used to offset the cost of certain steps in your treatment, like the consultation, imaging, or gum disease therapy. Although it won't pay the entire amount, we will help you maximize your benefits to lower your out-of-pocket expenses.
Making Dental Implants Affordable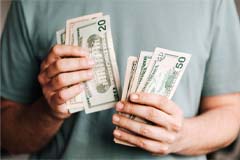 Dental implants in Allentown are possible, even if money is tight. We offer multiple solutions to pay for your new smile, including:
Traditional Payments: We accept cash, checks, and credit cards.
Third-Party Financing: Pay for your treatment using monthly installments through a third-party financing company, like CareCredit.
If you have any questions about your payment options, contact our office today to speak with a member of our team.
Dental Implant FAQs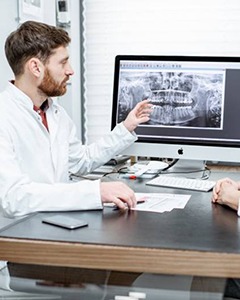 Dental implants in Allentown are a lifelong investment. Although you are excited to rebuild your smile, it is natural to have several questions about the treatment. At Bradford Young Family & Cosmetic Dentistry, we want you to feel confident in your decision. We thoroughly explain the treatment process and take the time to answer your questions during your initial consultation. In the meantime, here are the answers to a few of the most common questions about dental implants to help you make the right choice for your smile.
Can I get dental implants if I have gum disease?
Dental implants can last for several decades with the right foundation and the proper care over the years. Their long-term success relies on your jawbone's ability to support the posts and remaining infection-free. As a result, you are not a candidate for dental implants if you have active gum disease. The infection can compromise the health of your jawbone and prevent your body from healing properly, but do not worry. You can become a candidate for dental implants using periodontal therapy.
How can dental implants stop bone loss?
When you lose a tooth, the crown is not the only thing missing. You also lose the root. Now, your jaw is no longer stimulated in the area, which causes the bone to deteriorate. Over time, this leads to several oral health issues, such as additional tooth loss.
Traditional dental prosthetics only replace the crown of a tooth, but dental implants go a step further. Surgically placing the titanium implant post into your jawbone allows it to act as a new tooth root. This stimulates your jaw to encourage new bone growth. The preserves your jawbone's density to protect your oral health.
Can I get dental implants if I have bone loss?
Dental implants fuse to your jawbone through a process called osseointegration. This creates a stable foundation for your replacement teeth; however, you must have adequate bone density to support the posts.
If you lost your teeth from gum disease or you have had missing teeth for several years, there is a good possibility your jawbone's density is compromised. As a result, you may need bone grafting to become a candidate for dental implants. Your dentist in Allentown assesses your jawbone during your consultation to determine if you need the additional procedure before placing your implant posts.
How long will the dental implant process take?
The process of receiving dental implants can take considerably longer than when choosing traditional treatments, but it is time well spent. On average, you can expect the entire process to take 3 to 6 months, but the duration varies depending on your individual treatment plan, such as if you need additional procedures.