Children's Dentistry – Allentown, PA
Complete Care for Your Child's Oral Health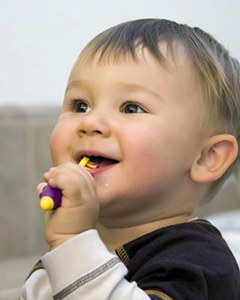 Making your child feel comfortable during every step of their treatment is extremely important to us at Bradford and Young Family and Cosmetic Dentistry. Dr. Young has multiple years of experience making children feel safe, accommodated and comfortable, whether it's time for their routine care or a more complex treatment to protect their oral health. Our multiple treatments specifically catered to children and helpful dental knowledge are sure to put them on the right track as they undergo their early development. Call our office today to schedule your child's very first appointment; we can't wait to meet them!
Your Child's First Dental Appointment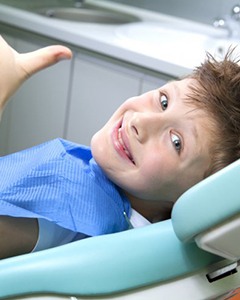 We recommend that you bring your child in for their first visit either once their first tooth erupts or within six months of them hitting the age of one. During their appointment, you can expect us to spend far more time discussing necessary oral care habits for them to learn at home, nutrition for healthy teeth and gum tissue, and treatments you should consider for them moving forward. With that said, we will briefly take a look inside their mouth to confirm the presence of any plaque or tartar, then quickly remove it to reduce their risk of decay.
Dental Sealants: How They Can Help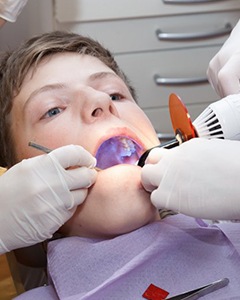 You may have heard of dental sealants before, but did you know that they are actually extremely capable of reducing the risk of plaque production in your child's mouth? We often recommend them for children because they tend to experience a higher risk of plaque and tartar production. This is because they don't have their oral care routine nailed down yet. Once we apply these thin plastic coverings to their teeth, we'll harden them instantly using a curing light. Sealants are typically placed over teeth that are highly susceptible to tooth decay, including the molars and premolars. By sealing the deep pits, cracks and fissures within them, your child can practice brushing and flossing with confidence.
The Importance of Routine Fluoride Therapy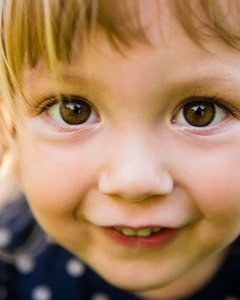 You might already know about the fluoride in your toothpaste, but did you know that we also offer fluoride applications at our office? Following your child's dental cleaning and exam, we'll apply a thin amount of fluoride material to their teeth as a way to provide additional protection against decay. Not only does this make their teeth better protected, but it also works to strengthen their enamel over time as it continues to grow and develop. Fluoride therapy is usually performed every six months.
Teaching Your Child Habits Between Routine Visits
When the time comes for their at-home care, make sure that your child:
Brushes alongside you so they can imitate your technique
Brush for at least two minutes at a time
Floss daily, ideally right before bed
Use at least a pea-sized amount of toothpaste to clean teeth