October 22, 2020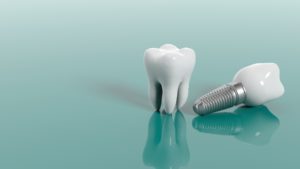 If you've lost a few teeth over the years, you're not alone. Despite modern innovations in dentistry, 120 million Americans are missing at least one tooth. Nowadays, you have more options than ever to fill the empty spaces, like using dental implants in Allentown. A dental implant replicates the entire tooth structure from the root up, not just the crown. Missing several teeth? Don't worry, you don't need to replace each one separately. Instead, here's how many dental implants you'll need to rebuild your smile.

What is a Dental Implant?
A dental implant is the only prosthetic to mimic both the root and the crown. A titanium implant post is surgically placed into the jawbone to serve as the root. An abutment is connected to the post to secure an all-ceramic crown to recreate the portion above the gum line. This gives you the next best thing to your natural tooth that's proven to last for decades with the right aftercare.
How Many Dental Implants Will I Need?
Dental implants can be used to treat all severities of tooth loss. If you're missing several or all your teeth, your dentist won't replace each tooth individually. Instead, they'll recommend an implant-supported prosthetic that only relies on a few implant posts to hold it in place. Depending on the number of teeth you're missing, here's how many dental implants you can expect to need:
Multiple Consecutive Missing Teeth: Traditionally, several lost teeth in a row are treated with a fixed bridge. Dental crowns hold the bridge in place, lasting about 10 years before needing to be replaced. An implant-retained bridge provides a great alternative, so you don't need to permanently alter healthy teeth. 1-2 implant posts are used to support it to preserve your natural smile.
All Teeth Missing in an Arch: A full denture is commonly used to replace an arch of lost teeth. It rests on top of the gum tissue, and it's held in place using suction or an adhesive. Although it's effective, it will always have its limitations. You can eliminate slipping and irritation using 4 to 10 dental implants to secure your denture to your jawbone. You'll regain as much as 70% of your natural biting force to chew your favorite foods again.
Are Dental Implants Right for Me?
Generally, if you have good oral and general health, you're a candidate for dental implants. You'll still need a consultation with your dentist to ensure they are right for you. They'll create a customized treatment plan and explain how many dental implants you'll need to reconstruct your smile. You will enjoy the best when choosing a permanent solution to treat tooth loss.
About Dr. Bradford G. Young
Dr. Young earned his Doctor of Dental Medicine from the University of Pennsylvania Dental School. He has regularly continued his training to focus on many areas of specialty, like dental implants. Whether you're missing a single tooth, multiple teeth, or an entire arch, he has the options you need to complete your smile. Contact our office today to schedule your consultation for dental implants.
Comments Off on How Many Dental Implants Do I Need?
No Comments
No comments yet.
RSS feed for comments on this post.
Sorry, the comment form is closed at this time.