November 18, 2020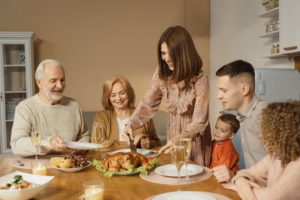 Although it has been a rough year amid the COVID-19 pandemic, there is still much to be grateful for this holiday season, like a complete smile. If you've made the choice to replace your missing teeth in Allentown, you've made a wise decision for your oral health and quality of life. As you reflect over the past year, here are 5 reasons to be thankful for your dental implants.

1. Boost in Self-Esteem
Your teeth are important for more than just chewing. They are also influential in speaking clearly and your self-esteem. Losing even a single tooth can have devastating consequences for your confidence. Filling the gaps in your smile instantly boosted how you felt about yourself. Not to mention, it may have changed the way people view you. They might perceive you as being younger, smarter, and more professional by treating your tooth loss.
2. Long-Term Solution
Traditional options only last for a few years before needing to be replaced. Dental implants can last for decades with the right aftercare. In fact, they have over a 95% success rate, so you should never need to worry about paying for new ones if you maintain your oral hygiene at home and visit your dentist regularly.
3. Feel Natural
You'll never need to worry about slipping or irritation. Your jawbone has fused to the dental implants to provide a stable foundation for your replacement teeth. You regained as much as 70% of your natural biting force to enjoy your favorite foods again to maintain a balanced diet for optimal health.
4. Preserve Your Jawbone
Tooth loss caused you to lose density in your jaw because the bone wasn't being stimulated by the root. As a result, your teeth didn't have the support they needed to stay in place. They may have drifted out of position, increasing your risk of several oral health issues, like cavities, gum disease, and additional missing teeth.
Dental implants are the only treatment to preserve your bone density because they replicate the roots. Each implant post stimulates new bone growth to keep your jaw strong, preventing dental drift and improving your oral health.
5. Reduced Oral Health Expenses
You might have paid more for dental implants upfront than traditional treatments; however, they are the most cost-effective long-term. You'll never need to pay for new ones if you commit to your oral hygiene and routine dental care. In addition, you'll avoid many of the complications associated with tooth loss, so you won't need to worry about a costly bill in the future.
Appreciate Your New Smile
As you enjoy your favorite meals and take family pictures, take a minute to be thankful for your new smile and the benefits you've achieved by replacing your missing teeth with dental implants.
About Dr. Bradford Young
Dr. Young earned his Doctor of Dental Medicine from the University of Pennsylvania Dental School. He has completed advanced training in many areas of specialty, including dental implants. As a member of the American Dental Association, he has the qualifications and reputation you can trust. Contact our office today to see if you're a candidate for dental implants.
Comments Off on 5 Reasons to be Thankful for Dental Implants
No Comments
No comments yet.
RSS feed for comments on this post.
Sorry, the comment form is closed at this time.