November 18, 2017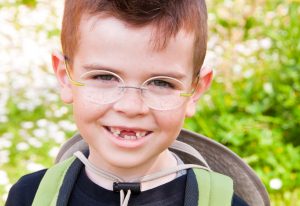 There are several milestones that you as a parent will remember in your child's life. One of those is the first time when a pink ridge in his gums gives clue that a tooth is soon to be pushing through the surface. And another milestone you'll remember is when your toddler loses the first tooth. You've probably either read or heard about what age range this event should take place within, but your Hillsboro pediatric dentist, Dr. Michael Royse, has insight into how you should approach this time of your child's life.
When Should Your Child Lose the First Tooth?
Most children will lose their first tooth around the ages of 5 or 6, but these definitely aren't fixed numbers, as some can start as early as age 4. Still some won't begin this process until the age of 7. Usually, your child will be the first to know that the tooth is loose because he will feel it moving. This is usually accompanied with some excitement.
Just to calm any fears you may have, it's perfectly fine for your child to play with the loose tooth. Just remind him to wash his hands well before touching his mouth to prevent any infection.
On most occasions you won't have to pull the tooth. Between its natural loosening from the gums and your child's curiosity in touching and wiggling it, your main concern will most likely be coordinating the tooth fairy's visit to collect the tooth from under your child's pillow.
Don't Worry – Your Child is Fine
It's very common for a parent to worry about the development of a child. Are they speaking their first words when they're supposed to? At what age are they supposed to walk or be potty trained? Shouldn't he be eating solid food by now? Every loving parent ponders and worries about such questions at times.
While developmental milestones are important, your child has a certain innocent wisdom to share with you. He doesn't worry about when his tooth should fall out. He just wants to explore and embark on the next adventure. And when he feels that wiggle in his gums, he only knows that something new is on the horizon.
In this moment, let your child's laughter, giggles and goofiness calm any concerns you may have. Just enjoy watching your little bundle of joy grow up. And if you have questions, just reach out to a Hillsboro children's dentist.
About the Author
A native of Beaverton, Oregon, Dr. Michael Royse graduated with honors from The Oregon Health Sciences University School of Dentistry in 1987. While serving 11 years in the United States Naval he completed a General Practice Residency at Naval Hospital, Oakland, California. He later completed his residency in pediatric dentistry, graduating from the Fort George G. Meade DENTAC Pediatric Dentistry Residency in 1995. He practices at Dentists at Orengo for Kids, and can be reached for more information through his website.
Comments Off on Your Hillsboro Pediatric Dentist Reveals the Best Time for Your Child to Lose a Tooth
No Comments
No comments yet.
RSS feed for comments on this post.
Sorry, the comment form is closed at this time.