June 20, 2023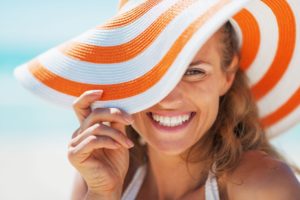 You have been working hard all year to ensure you look and feel your best for those exciting summer vacation plans, but did you consider your smile? Many people find themselves with a tight-lipped smile for the summer, or avoid taking pictures with family and friends if they feel self-conscious about imperfect teeth. If you feel like you cannot fully embrace your time with loved ones or make lifelong memories because of your smile, then cosmetic dentistry can help.
How can Cosmetic Dentistry Perfect my Smile this Summer?
For those who may simply wish to whiten their smile, your dentist can help you with a teeth whitening procedure in-office. However, if you are feeling self-conscious about more than just the color, and teeth whitening is not meeting your needs, you may want to consider porcelain veneers.
Veneers can address aesthetic issues like:
Dark tooth stains
Small gaps in teeth
Crooked or asymmetrical tooth placement
Cracked or chipped teeth
What are Veneers?
Veneers are thin, customized shells that are created to cover the front sides of your teeth. They are made from durable porcelain and are bonded to your teeth as a protective shield. Veneers can be built and placed to correct or hide aesthetic imperfections so that you can smile confidently all summer long. Not only that, but with the proper care they can last decades so you can enjoy your newly restored smile for a lifetime.
How do Veneers Work?
The first step is to schedule a consultation with your dentist, who can explain the number of veneers and the cost, to meet your needs. After that, you can expect at least one more visit to complete treatment.
Firstly, your dentist will clean and prepare your teeth which includes removing a small amount of enamel so the veneers sit evenly on your teeth.
Then your dentist will take a digital image of your mouth in order to customize the veneers to match your teeth. Temporary veneers may be attached to protect your teeth while waiting for the custom-built veneers to arrive at your dentist's office.
Once the veneers arrive, your dentist will schedule a visit with you to bond them to your teeth. Afterwards, you can walk away feeling happy and confident in your restored smile.
While you're working on getting ready for this summer's adventures, don't forget correcting your flawed teeth. Make this summer truly one to remember with a confident smile for the camera!
About the Author
Dr. Bradford Young, a native of Allentown, PA, has been practicing cosmetic dentistry at his own practice for 12 years. His continued experience as an attending teacher at Lehigh Valley Health Network, combined with past experience serving patients at Good Shepherd Rehabilitation Hospital in Allentown, gives him a unique perspective on the patient experience. Dr. Young takes pride in establishing relationships with patients over the years, and serves a diverse population with state-of-the-art technology. For more information about veneers or to schedule an appointment, visit Family & Cosmetic Dentistry by Bradford Young at their website or by phone at (610) 439- 1363.
Comments Off on Flash the Perfect Summer Smile
No Comments
No comments yet.
RSS feed for comments on this post.
Sorry, the comment form is closed at this time.