May 7, 2023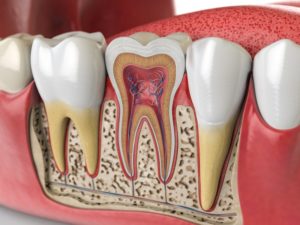 It's not uncommon for people to avoid going to the dentist. It's been estimated that roughly one-third of Americans steer clear of their dental office. It can be even more tempting to not give your smile the professional care it needs if your dentist has told you that you need a dental procedure like root canal therapy. However, there are some negative repercussions if you keep delaying this necessary treatment. Read on to learn three reasons why you shouldn't avoid getting a root canal.
#1. Delaying Root Canal Therapy Can Cause More Dental Pain
The media and pop culture has painted the picture that getting a root canal is incredibly painful. In reality, this is far from true! In fact, most people report minimal discomfort as they heal from the procedure. The myth likely began since needing a root canal can cause a great amount of discomfort. If a tooth has an infection deep inside, it can lead to a toothache. If your damaged tooth goes untreated, you may experience even more severe pain. By receiving root canal therapy as soon as possible, you can count on relieving any pain and returning to a happier, healthier smile as soon as possible!
#2. Delaying Root Canal Therapy Can Require More Time from You
Are you delaying root canal therapy because you feel it's too hard to fit in amidst your busy schedule? It can be tempting to put off a dental procedure when you have work or family obligations. However, if you wait too long, you may have to attend multiple appointments to restore your smile to health. Root canal therapy will only require a few days of healing, so it's best to clear a little space in your schedule before your dental issue causes you even more time.
#3. Delaying Root Canal Therapy Can Affect Your Overall Health
Some people think the best route to take after being told they need a root canal is to tough out the pain and it will eventually go away. However, this is unlikely. Even if the pain does suddenly disappear, this could actually be a sign that your dental issue is getting worse! The nerves inside your tooth may have been killed by an infection, decreasing the chances of your dentist saving your tooth. Even worse, the infection can even spread to other areas of the body, including vital organs. To protect your smile and your overall well-being, it's best to do what your dentist recommends right away.
About the Author
Dr. Bradford Young and his team keep the smiles of Allentown whole, healthy, and beautiful. He received his Doctor of Dental Medicine from the University of Pennsylvania Dental School and is an active member of several dental associations. Born and raised in Allentown, Dr. Young is committed to keeping your oral health in top condition with personalized care and a comprehensive range of dental services, including root canal therapy. To schedule an appointment, contact him through his website or call (610) 439-1363.
Comments Off on What Can You Expect if You Delay Root Canal Therapy?
No Comments
No comments yet.
RSS feed for comments on this post.
Sorry, the comment form is closed at this time.