September 29, 2022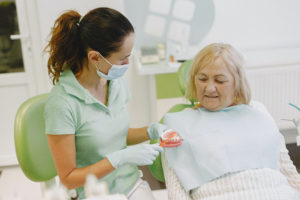 Dentures have been used for generations to treat significant tooth loss. Although they are a tried-and-proven solution, they haven't had the best reputation over the years. Much of what you might have heard is not true, thanks to continual improvements in dentistry. Don't let rumors stand in your way of completing your smile. Here are the facts you need behind 4 common myths about dentures. 
Myth #1: Dentures are uncomfortable.
Fact: Dentures will fit your mouth like a glove.
Your dentist will take an impression of your mouth to create an acrylic base that's customized for your smile. It will rest on top of your gum tissue and is held in place with suction. Although it may take a few days to get used to wearing your new set of teeth, they'll feel natural in no time. With the right care at home and regular attention from your dentist, you won't have to worry about any slipping or irritation.
Myth #2: I'm too young for dentures.
Fact: There's not an age requirement for dentures.
Dentures are often associated with the elderly, but patients of all ages can benefit from a complete smile. If you've suffered significant tooth loss or your teeth are beyond repair, you may be a candidate for dentures.
Myth #3: Dentures don't look like real teeth.
Fact: High-quality materials produce natural-looking results.
Dentures look more realistic than ever using high-quality, durable materials. Your new teeth are custom-made to match the appearance of those you've lost. They are set in a gum-colored base to create stunning results, so you'll have a smile you'll be proud to share with the world.
Myth #4: Dentures are too expensive.
Fact: Dentures are affordable for people from all walks of life.
Dentures are attributed with a hefty price tag, but they are more affordable than you might believe. There's not a flat rate because various factors affect the cost. However, you can often use your dental insurance to lower the amount you'll pay out-of-pocket. After reaching your deductible, your coverage can pay 50% to 80% of the cost of certain steps in your treatment. Many dental offices also accept third-party financing, so you can pay any remaining balance using monthly installments with little or no interest based on your credit approval.
Rebuild a Beautiful Smile Today
Everyone deserves to have an attractive, functional smile. Don't compromise your oral health or quality of life by believing denture myths. Your dentist will answer all your questions and provide you with the information you need to make the best investment for your smile using high-quality dentures.
About Dr. Bradford G. Young
Dr. Young achieved his dental degree from the University of Pennsylvania Dental School and regularly pursues higher education in many specialties. He is a proud member of various professional organizations, including the American Dental Association and Pennsylvania Dental Association. If you're ready to replace your missing teeth, he has a reputation you can trust. Contact our office today to request your consultation for dentures.
Comments Off on 4 Common Myths About Dentures – Busted!
No Comments
No comments yet.
RSS feed for comments on this post.
Sorry, the comment form is closed at this time.