November 16, 2016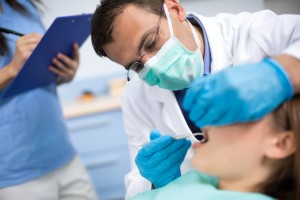 You probably have a little sticker on your car's windshield that reminds you when you need to change the oil. Why do you have this? It's probably an easy question to answer: Regular oil changes keep your car running smoothly and save you from having to get expensive repairs. The exact same can be said for regularly seeing your dentist in Allentown. Regular check-ups are one of the most basic and essential ways you can keep your teeth healthy year to year. Your dentist at Bradford Young Family and Cosmetic Dentistry wants you to know why they are so important, and even how your insurance may completely cover it.
Regular Check-Ups and Your Smile
If you are consistently brushing and flossing your teeth, you probably think you are taking very good care of them, and in fact, you are! However, your teeth are very complicated structures with many small, hard to reach surfaces on them. This is especially true when talking about the back teeth. Many of these areas are simply inaccessible with your brush or floss. In addition to that, many people either miss or completely to forget to clean along the gum line. This can lead to gum disease, which is actually the leading cause of tooth loss for patients 35 and over.
In order to take care of these problem areas, you need to regularly see your family dentist in Allentown. You'll be able to get a professional cleaning that will completely eliminate plaque from those hard to reach places that are so often the source of tooth decay. The team at Bradford Young Family and Cosmetic Dentistry have the special tools and training to clean your teeth in ways you simply can't at home. Not only will this help your teeth stay healthy, but it will keep them beautiful as well.
This also gives Dr. Bradford Young and Dr. Mark Enea a chance to examine your teeth and gums. This is important for a few reasons. Many dental issues, including tooth decay and gum disease, develop very slowly and can be hard to see in their initial stages. The doctors' trained eyes will be able to spot signs of these conditions early. This will allow them to use more conservative treatments that can save you time and discomfort in the dentist's chair. An ounce of prevention is worth a pound of care, as they say.
It is recommended that you see your dentist at least twice a year, and this is a small ask to keep your smile shining all year round. Two quick and easy visits are all you need to have a gorgeous smile that you never have to worry about. That is certainly worth 2 hours of your time over the course of the year.
We Will Take Your Insurance
Did you know that many dental insurance plans cover preventive care like check-ups and cleanings 100%? This is because dental insurance is tailored more to prevent issues before they happen rather than treat them. This is ideal for everyone; don't you wish you could get peace of mind for free more often? We work with a large variety of insurance providers and will always make sure that you are able to get the most out of the benefits you are rightfully entitled to.
A list of providers we work with are:
Delta Dental
United Concordia
MetLife
Aetna
Cigna
Guardian
Blue Cross/Blue Shield
Blue Cross CHIP
United Healthcare
Ameritas
Populytics
Geisinger Gold
Anthem
Liberty Dental
Assurant
Humana
Principal
UMR
Renaissance
Bollinger
Federated Mutual
Team Care
Dominion Dental
Direct Care
Any Questions?
We want you to be able to smile year around, and the best way we can assure that is with regular check-ups every 6 months. If you want to know more about how we can help your teeth or the insurance providers we work with, please give us a call today.
Comments Off on The Benefits of Check-Ups with Your Dentist in Allentown
No Comments
No comments yet.
RSS feed for comments on this post.
Sorry, the comment form is closed at this time.