October 10, 2016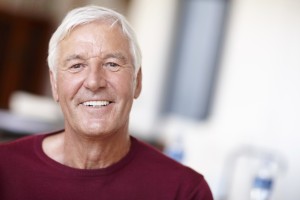 If you are missing all your teeth on the top or bottom arch, you are not alone. It is estimated 35 million Americans do not have any teeth. Traditionally, complete tooth loss is treated with conventional dentures. While dentures are effective, they are not a permanent solution and do not function like natural teeth. Now, you have an alternative solution to treat tooth loss with implant retained dentures in Allentown. With implant retained dentures, you will gain confidence and security through a permanent solution that looks and functions closely to natural teeth.

What are Implant Retained Dentures?
Implant retained dentures are a form of overdenture that is anchored in place using dental implants. When a person has complete tooth loss on the top or bottom jaw, titanium implant posts are surgically inserted into the jawbone to hold the prosthetic dental arch in place. The dental arch snaps onto the posts to give a sturdy foundation to resume normal oral functions. There is no need for adhesives and you do not have to worry about slipping or discomfort. Your new smile will last a lifetime with the right care.
How Can I Get Implant Retained Dentures?
To benefit from this advanced form of tooth replacement, you must undergo a consultation to determine if you are a candidate for the procedure. You must have healthy gums, adequate bone to support the implants and minimal risk factors for implant failure. Often, those how have decreased bone density are concerned about their candidacy for implant retained dentures. However, with this option, even those with decreased density can still benefit from the procedure. On average, only 4 implant posts are used per jaw, so it is acceptable for those who may not be candidates for traditional implants due to bone loss.
After you have undergone the necessary consultation, a multi-phased treatment plan is created. During the first phase, the implants will be surgically inserted into the jawbone. After about 6 months, the attachments are added to the implant posts to hold the false teeth in place.
How Do I Care for Implant Retained Dentures?
Caring for implant retained dentures is fairly easy. You will need to clean the dentures and the gum areas each day using the products recommended by your dentist. We recommend you do not sleep with your implant-supported dentures in your mouth if you have chosen the removable option. You will need to soak the dentures in a cleaning solution overnight to prevent them from drying out. You will also need to brush your gums, tongue, and the roof of your mouth twice a day.
Benefit from Implant Retained Dentures
As your dentist for dental implants in Allentown, we offer a wide range of options to treat tooth loss, including implant retained dentures. We offer both bar-retained dentures and ball-retained dentures to choose an option that best meets your needs.
If you are ready for the best alternative to traditional dentures, it is time to schedule a consultation for implant retained dentures. We will help you gain a confident smile.
Comments Off on Get a Confident Smile with Implants Retained Dentures in Allentown
No Comments
No comments yet.
RSS feed for comments on this post.
Sorry, the comment form is closed at this time.