March 3, 2017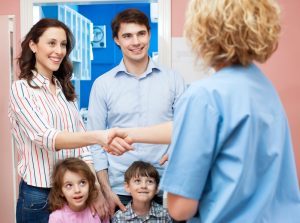 Next to your family's home oral hygiene habits, the care they receive from their dentist is invaluable to their dental health. Unfortunately, finding a dentist in Allentown who can provide catered services for each loved one can be a challenge. Oral health needs change over the years. You need a dentist who can accommodate those needs through all stages of life. In addition, your family deserves to benefit from personalized, comfortable care to enjoy their time at the dentist. At Bradford Young Family & Cosmetic Dentistry, we understand the decision you face when choosing a dentist. To make the task easier, we have the information you need to make a wise choice.

Personalized, Comfortable Care
In addition to high-quality services, you need a dentist who makes everyone in your family feel welcomed and comfortable. We understand the importance of personalized care while delivering superior results to help your family reach their oral health goals. Our dental office is family-oriented to provide the personable, kind, and friendly attention your family deserves.
While keeping comfort the center of our focus, we provide the exact services your family needs through all stages of life. This allows your entire family to benefit from one amazing dentist, saving you time and money. Not to mention, we develop a close relationship with your loved ones over the years. This allows us to deliver a higher level of care while earning your family's trust. As a result, your family will keep dental health a top priority throughout life as they have a trusted and caring dental team by their side.
Comprehensive Dental Care
Your family needs a dentist who can provide complete services from one location to simplify dental care. We provide complete dental services for the entire family. We understand that your time is valuable so we strive to make dental services easier without compromising the results. During preventive appointments, we not only clean the teeth and provide a checkup, but we will also treat cavities. There is no need to schedule a separate appointment. We offer cavity prevention and treatment during your hygiene appointments whenever possible. To help protect your family's smiles, we take the time to educate our patients because we truly care about building generations of healthy smiles.
As a family dentist in Allentown, Dr. Young also provides restorative dentistry to rehabilitate damaged teeth. Using the best advancements in dentistry, he provides root canal therapy, periodontal therapy, and tooth replacement solutions right in our office.
To keep your family's smile looking their best, we provide an array of cosmetic procedures. With the appearance of the teeth vital to confidence, we will help your family achieve a flawless smile with teeth whitening, cosmetic bonding, porcelain veneers, or a complete smile makeover.
Benefit from a Caring Family Dentist
When choosing a new dentist, set the right foundation for a lifetime commitment to dental health with the care your family deserves. With patients, the center of our focus, we will help your family maintain healthy, beautiful smiles. Contact our office today to schedule a consultation.
Comments Off on Benefit from the Right Dentist in Allentown for Your Family
No Comments
No comments yet.
RSS feed for comments on this post.
Sorry, the comment form is closed at this time.