February 3, 2017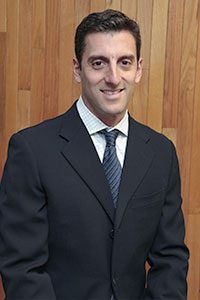 Anniversaries are always special – from relationships to birthdays to milestones in your career, it's important to celebrate the passage of time and the experience you've gained. At Bradford Young Family & Cosmetic Dentistry, we'd like to congratulate Dr. Mark Enea on his two years of superior service with our practice. Learn more about Dr. Enea in this article and see why he's your choice for a talented dentist in Allentown.
Why Is Dr. Enea The Right Dentist For Me?
Dr. Enea graduated from the Temple University School of Dentistry in 1997 – he's originally from Easton, PA, and ran a successful practice for 18 years in his hometown. He and his family moved to Allentown a few years ago, and Dr. Enea quickly became an integral part of our team.
His decades of professional expertise are exemplified by his professional affiliations – he's active with the American Dental Association (ADA), the Pennsylvania Dental Association, and the Lehigh Valley Dental Society.
Aside from Dr. Enea's extensive experience and professional clout, his chairside manner is what will benefit you most when you come in for a visit. He's compassionate, accessible, and engaging – he enjoys educating his patients to ensure they completely understand their treatment plans. What he really excels at, is his ability to calm the fears of people who are anxious about the dentist. Dr. Enea will make you feel relaxed and comfortable with your dental procedures, and will give you a superb patient experience no matter the reason for your visit.
And, on a personal note, Dr. Enea is a family man with a wife and two young children. He uses his perspective as a father when providing treatment and loves making the office a family friendly environment.
He's also an athlete on the course and the slope – he golfs and skis when he has the opportunity. And, he's not only talented with dental tools, but also plays the guitar and is a great cook, too!
What Services Does Dr. Enea Offer?
Dr. Enea and our team are your source for comprehensive dental care. We provide the following:
Preventive and General Dentistry – checkups, exams, cleanings, fillings, and X-rays
Family Dentistry – dental care for all your relatives whether children, adults, and seniors
Restorative Dentistry – dental implants, gum disease treatment, dental crowns and bridges
Cosmetic Dentistry – teeth whitening, composite bonding, porcelain veneers
Dr. Enea is in the office every Tuesday and Wednesday and begins seeing patients at 7:30 a.m. – if you need an early appointment due to work or school, our office hours will definitely accommodate you.
Help Dr. Enea celebrate his two years at Bradford Young Family & Cosmetic Dentistry by scheduling your appointment today – you and our team have a lot to smile about!
Comments Off on Dr. Mark Enea, Your Dentist In Allentown, Celebrates A 2-Year Anniversary
No Comments
No comments yet.
RSS feed for comments on this post.
Sorry, the comment form is closed at this time.