August 25, 2021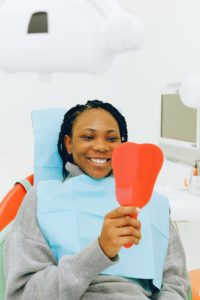 Root canal therapy has over a 95% success rate at restoring a severely damaged or infected tooth from extraction. It's normal to think twice before agreeing to the procedure because it has a bad reputation for being painful, but don't let common misconceptions stop you from saving your tooth. Contrary to what you might have heard, a root canal is actually good news because it means your tooth is salvageable. Here are 4 reasons you'll be glad you chose to save your tooth.
1. You don't have to have a tooth pulled.
When a dentist recommends a root canal, it's tempting to ignore their advice and have the tooth pulled. Although an extraction will eliminate the problem at the source, it opens the door to a long list of new costly complications. Every tooth is crucial to a healthy, functional smile. Losing even one can increase your risk of several preventable issues, like cavities, gum disease, and additional tooth loss. Without a root in the socket, you can lose as much as 25% of your jawbone's density within the first year after your extraction. Thankfully, you can avoid the complications with a root canal.
2. Your pain will soon be gone.
It can be difficult to focus on anything else except the pain of an infected tooth. Despite the relentless discomfort, you might want to wait for the pain to go away on its own, but it won't improve without the right treatment. It can worsen because the infection can spread to surrounding teeth and even into your bloodstream. By removing the pulp, it extracts the nerve center of your tooth to instantly stop your pain.
3. You don't have to pay for replacement teeth.
You'll need to invest in a replacement tooth to keep your smile healthy and your confidence intact if you choose extraction. This can get quite costly over the years because bridges need to be replaced often. You can lower your long-term dental expenses by treating your tooth with a root canal. Although every policy is unique, many dental insurances can be used to offset the cost of your treatment to lower the amount you will need to pay.
4. You keep more of your natural smile.
Dentistry undergoes regular improvements; however, no matter the advancements in tooth replacement, there aren't any that compare to the benefits of your natural teeth. A root canal allows you to preserve your smile to ensure it stays healthy and beautiful for a lifetime.
If you have a tooth giving you grief, it's time to discuss the benefits of a root canal with your dentist. They'll save your smile using the latest innovations in dentistry for a pain-free visit.
About Dr. Bradford G. Young
Dr. Young earned his dental degree at the University of Pennsylvania Dental School before continuing his training in general dentistry. He is a member of various professional organizations due to his career excellence, including the American Academy of General Dentistry. If you need root canal therapy, contact our office today to schedule your consultation.
Comments Off on 4 Reasons a Root Canal is Good News
No Comments
No comments yet.
RSS feed for comments on this post.
Sorry, the comment form is closed at this time.