May 9, 2020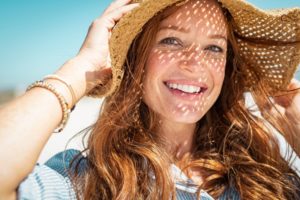 You've been planning this summer's beach vacation since last fall. Everything is perfectly accounted for: the hotel room is reserved, you've got an amazing new swimsuit, and you've already been working on your tan. One thing that wasn't planned was that time earlier this year when you chipped your tooth. Now you have a noticeable hole in your smile that makes you afraid to show your teeth in photos. Do you know what treatment might be perfect for you? A dental crown in Allentown. Keep reading to learn what dental crowns are and how they can benefit you.
What Are Dental Crowns?
A dental crown is a tooth-shaped restoration that is placed over a tooth to restore it back to its original structure, function, and appearance. You can think of a crown like a "cap" that slips on top of a damaged or cosmetically imperfect tooth. While dental crowns can be made of a variety of materials, like gold, silver, and ceramic, most dentists these days use porcelain or porcelain fused to metal to create durable yet lifelike crowns.
Are You a Good Candidate for a Dental Crown?
Crowns can be used in a variety of situations. If you meet any of the following criteria, you might be a good candidate for a crown:
You have a tooth with a stubborn stain, chip, cracks, or some other aesthetic flaw.
You have a tooth that is more than 50% decayed, so much so that a regular filling isn't enough to restore it.
You have a tooth that needs repair but is already full of filling material.
You recently had a tooth treated with root canal therapy.
You need to cover a single dental implant.
Why Should You Get a Dental Crown This Summer?
If you have a big event coming up this summer, like a wedding or a vacation, you know that lots of pictures will be taken. You don't want to be afraid to smile in these photos because of a cosmetic imperfection in your smile, do you? That certainly wouldn't be very photogenic of you. So, to solve that problem, a dental crown may be just the treatment you need.
Look your best for this summer's events by investing in your smile with a dental crown. It can be trusted to correct all kinds of smile flaws, like chips, cracks, stains, and even minor gaps. To learn more about dental crowns and whether they would be right for you, contact your dentist.
About the Author
Dr. Bradford Young received his Doctor of Dental Medicine degree in 2002 from the University of Pennsylvania Dental School. His professional memberships include the American Dental Association, the Pennsylvania Dental Association, the Academy of General Dentistry, and the Lehigh Valley Dental Society. His practice offers dental crowns as a way to improve your smile this summer and all year round. To learn more, you can contact Dr. Young at (610) 439-1363.
Comments Off on Why You Should Get a Dental Crown This Summer
No Comments
No comments yet.
RSS feed for comments on this post.
Sorry, the comment form is closed at this time.