April 20, 2020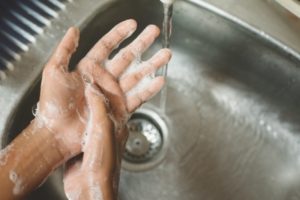 You desperately want to avoid catching COVID-19, so you've been diligently following all of the social distancing guidelines that have been in place for the past few weeks. You've been staying indoors, wearing a mask when you absolutely have to go out, and sanitizing everything you touch. But did you know there are a few other habits that you can implement to lower your risk of contracting the virus? Here are a few oral health tips from a dentist in Allentown that can help you avoid catching COVID-19.
1. Deep-Clean Your Toothbrush Once a Week
Every few days, it helps to thoroughly disinfect your toothbrush, just to be on the safe side. Some effective ways to do so include:
Boiling your toothbrush in hot water for five minutes
Swirling your toothbrush around in mouthwash for 30 seconds
Soaking your toothbrush in denture cleanser according to the instructions on the label
Letting the bristles soak in vinegar overnight
2. Wash Your Hands Before Brushing
We already know that the coronavirus is spread by touching our faces, particularly our mouths. But what we often fail to think about is the fact that when you touch your toothbrush with your hands, it then goes into your mouth. That means that if you have recently touched someone who was infected, then you could be directly giving yourself the virus by neglecting to wash before you brush. Take the time to clean your hands before you partake in your oral hygiene routine.
3. Store Your Toothbrush in an Open Container
It may be tempting to keep your toothbrush in a drawer, cabinet, or cover. Damp, dark places like these, however, can quickly become a breeding ground for germs, including the coronavirus. Instead, store your brush upright in a designated toothbrush holder. If you share a bathroom, make sure each person has their own holder. Otherwise, the toothbrush bristles could make contact and spread germs from one person to another.
4. Don't Share Toothpaste or Floss
You may already be aware that you shouldn't share a toothbrush with anyone. However, it's also detrimental to use the same tube of toothpaste or canister of floss as another person. This is because germs can survive on the outside of your oral hygiene products for several hours, and this includes the coronavirus. Everyone in the household should have their own toothbrush, toothpaste, and floss.
If you're adhering to social distancing guidelines, you're already ahead of the curve. These tips can provide you with a little extra help in keeping the virus at bay. For more oral health tips, contact your dentist in Allentown.
About the Author
Dr. Bradford Young is a 2002 graduate of the University of Pennsylvania Dental School. He maintains active memberships in several professional organizations, such as the American Dental Association, the Pennsylvania Dental Association, the Academy of General Dentistry, and the Lehigh Valley Dental Society. Due to COVID-19, his practice is currently only treating patients with dental emergencies. If you suspect you may have one, such as an intense toothache or a broken or dislodged tooth, you can contact Dr. Young's office at (610) 439-1363.
Comments Off on 4 Oral Health Tips to Help You Avoid Catching COVID-19
No Comments
No comments yet.
RSS feed for comments on this post.
Sorry, the comment form is closed at this time.