March 23, 2018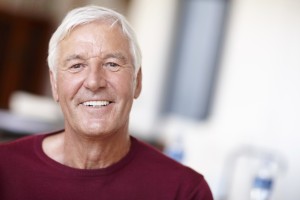 Missing teeth was one of the most difficult challenges you've had to face. Thankfully, due to your local dentist's help, you were able to replace your lost teeth with dentures in Allentown. The best thing that you can do now is to care for them appropriately!
Maintaining your dentures the right way can help your dental prosthetics to last a lifetime! Learn more about how to properly care for your new teeth in this week's blog post.
Care for Your Dentures the Right Way
If you thought having dentures meant you could give up brushing your teeth, you need to know that that is the furthest from the truth. Just because you might have lost a significant number of teeth, you still need to care for your prosthetics and your gums.
It is still necessary to brush your dentures; however you will need to make some adjustments than just using any toothbrush and toothpaste. In fact, do not use regular toothpaste. Why? There are many commercial brands of toothpaste can end up damaging your dentures.
It is recommended that you use a soft-bristle denture brush as well. There are some on the market that are specifically made for cleaning dentures. Simply use some water to brush all the surfaces of your dentures.
When cleaning your dentures, be careful to handle them gently. This helps to protect them from damage. After each meal, it is important to rinse them, but don't ever skip brushing your teeth! Consider purchasing a specialized denture liquid to soak your dentures in as well.
Handle Your Dentures with Care
Dentures are made to last years at a time, but they still are not completely indestructible. When you are handling them over the sink, it is a good idea to lay a folded towel down or fill the sink with water so that if you do happen to drop them, they will be protected
Sometimes, dentures have metal attachments. Be sure that you aren't using a soak that will make them tarnish. If you're unsure, feel free to ask your dentist in Allentown for advice!  Also, never soak your denture in hot water, as this could change their shape from them warping.
Rely on Your Dentist for Extra Help
Taking care of your dentures is an important part in helping them last for years to come. Be sure to keep seeing your dentist every 6 months so that they can make sure your oral health is in good standing and your dentures are in great shape. In the case that you are experiencing discomfort or problems with your dentures, your dentist will be able to help you address your issue.
---
About Our Office
Here at the dental office of Bradford Young, we will do our best to help you replace your missing teeth. We also take your dental care a step further by providing excellent advice on how to make your dental restorations last a lifetime! If you ever have questions or need advice, we're just a phone call away.
Comments Off on Help Your Dentures in Allentown Last for Years!
No Comments
No comments yet.
RSS feed for comments on this post.
Sorry, the comment form is closed at this time.