April 26, 2018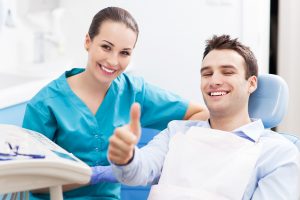 April is Oral Cancer Awareness Month so there could not possibly be a better time to have a screening. But where can you get an oral cancer screening? Right here at your dentist in Allentown! There really is no one better to check for the early warning signs of oral cancer than the dentists and hygienists who routinely examine your mouth. In fact, a dentist is often the first health care provider to notice the red flag for many general health concerns. Let's take a look at some of those signs and the steps to a screening.
What Does Oral Cancer Look Like?
During a screening for oral cancer, your family dentist in Allentown looks for changes in your mouth's soft tissue that could mean cancerous or pre-cancerous cells are present. Other factors that are not visible are also sought out.
These signs include:
A sore in your mouth or on your lips that is not healing and that may bleed
A smooth or scaly spot that appears either red or white
Numbness anywhere in your mouth or on your lips
A lump in your mouth, along the jaw or down your neck
Loose teeth or dentures
An earache without an infection
Difficulty swallowing or a sore throat that won't go away
Oral Cancer Screening in Allentown
To find the early warning signs of oral cancer mentioned above, the dentist or dental assistant visually examines your lips and the entire oral cavity—inside your cheeks, on top of and underneath your tongue, and down your throat. We will also palpate the lymph nodes in your neck and jaw, as well as your jaw joints that are near your ears. Next we will look down your throat for any changes in the tissue there, and we'll look closely at your face to spot a swollen spot or asymmetries.
Finally, the dentist will ask about your smoking and drinking habits. Smoking or chewing tobacco is the leading risk factor for oral cancer. Add excessive alcohol to the mix and your risk goes even higher.
Please be aware of the warning signs for oral cancer. Take a moment during your at-home oral hygiene routine to examine your own mouth for any suspicious looking changes. If you notice something, don't wait! Call our office immediately to schedule an examination. Oral cancer is best treated when caught early.
About the Author
Earning his Doctor of Dental Medicine degree from the University of Pennsylvania Dental School, Dr. Bradford G. Young went on to complete his General Practice Residency in the Lehigh Valley Health Network. A member of several professional organizations, Dr. Young practices at Bradford Young Family & Cosmetic Dentistry and can be reached for more information through his website.
Comments Off on See Your Dentist in Allentown for Oral Cancer Screenings
No Comments
No comments yet.
RSS feed for comments on this post.
Sorry, the comment form is closed at this time.