May 19, 2017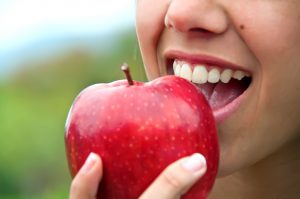 When you are suffering from tooth loss, you need an effective solution to fill the missing space. Living with an incomplete smile decreased your quality of life as you want to hide your smile. If you do not replace missing teeth, your oral health will begin to decline as well as your confidence. In addition, you can develop nutritional deficiencies from difficulty eating as your quality of life decreases. Now, you have many options when it comes to dental prosthetics. New advancements in dentistry can provide you with an array of solutions. When needing dentures in Allentown, our Dr. Bradford Young and his team will help you make the best choice for your individual needs.

Partial Dentures
If you are missing several teeth in a row, partial dentures will fill the gap to give you a complete smile. They consist of prosthetic teeth that are attached to a gum-colored base. The device is then fitted to your remaining natural teeth and held in place with clasps that attach to your adjacent teeth. Often, this is the most affordable and convenient option for many; however, you will need to take the time to properly care for the device to ensure its longevity.
Complete Dentures
Complete tooth loss on the top or bottom arch drastically decreases your ability to eat and speak correctly. You can replace an entire arch of teeth using a complete set of dentures. Now, advancements in dentistry have made dentures look and feel more natural than ever. Although they will never fully feel or function like natural teeth, you will restore your ability to eat and speak.
An arch of prosthetic teeth will be created, which is attached to a gum-colored base. The base is then attached to the gum using a denture adhesive. This is a quick and easy way to replace your missing teeth. Although the prosthetic is not subject to decay, you will still need to maintain your oral hygiene and clean your dentures.
Implant Retained Dentures
Now, the most preferred and effective solution to replace missing teeth involves implant retained dentures. The prosthetic teeth are attached to a gum-colored arch; however, instead of attaching the device to adjacent teeth or using a denture adhesive, they are held in place with implant posts. The implant posts are surgically placed into the jawbone to offer a permanent solution to treat tooth loss.
When compared to other tooth replacement options, implant retained dentures most closely look and function like natural teeth. In addition, they are the only option to stop bone loss. Although dental implants do cost more than other options and require a multi-phased treatment process, they will last a lifetime. This allows you to make a true investment in your oral health, quality of life, and confidence.
Get a Complete Smile Today
If you are ready to replace your missing teeth, it is time to contact your dentist in Allentown. At our dental office, we provide the options you need to regain a complete smile. We will evaluate your tooth loss and discuss your lifestyle to choose the option that best meets your needs. Benefit from a complete smile today!
Comments Off on Which Type of Dentures in Allentown are Right for Me?
No Comments
No comments yet.
RSS feed for comments on this post.
Sorry, the comment form is closed at this time.