May 13, 2016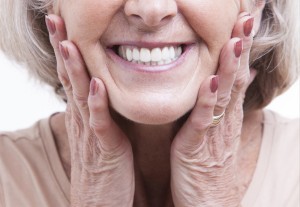 At Bradford Young Family & Cosmetic Dentistry, we're not only concerned about the teeth you have—we also think about the teeth you don't have. Replacing missing teeth is imperative for the continuity of your oral health, your ability to speak and eat, and your confidence in social or professional situations. Dentures are an excellent choice for many people who have tooth loss. Are you a candidate? Allentown dentists Dr. Young and Dr. Enea can help you decide.
What are dentures?
Dentures are removable dental appliances that consist of false teeth, or pontics, attached to a gum-colored base. They allow you to speak and smile more naturally, and enjoy a healthy and varied diet. At Bradford Young, we can design dentures to remedy any tooth loss situation, from complete to partial.
Who is a good candidate?
Simply having missing teeth does not necessarily make you a good candidate for dentures. There are other considerations. For example, a certain amount of healthy bone structure and gum tissue is necessary in order for a denture to remain securely in place. Also, understanding that dentures are never going to look or feel the same as true teeth is critical to successfully adjusting to your new teeth.
Do I need full or partial?
If you are missing all or most of your teeth along the top or bottom arch, then a full denture is probably the optimal choice for restoration of your smile. The base of a full denture rests over your gums and is held in place by suction and the muscles of your tongue and cheeks. A denture adhesive can also be used if necessary. Complete dentures restore your ability to bite, chew and smile, and will also support your facial muscles and tissue for a more youthful appearance.
If you are missing some of your teeth, then a partial denture may be appropriate. This appliance can be designed to fit between your remaining teeth. A partial is firmly held in place by metal clasps or brackets that attach to these nearby teeth.
How can I best care for my new dentures?
Dentures are somewhat fragile, so you'll need to be gentle. Only use a soft brush and non-abrasive denture cleaner; ordinary toothpaste is not recommended. Never sleep with your dentures in place. Let them soak in water or a denture cleaning solution overnight.
Call Our Office Today
If you would like to know whether or not your best tooth replacement option is dentures, Allentown dentists Dr. Young or Dr. Enea would be happy to consult with you. Contact Bradford Young to schedule an appointment.
Comments Off on Dentures in Allentown: Are You A Candidate?
No Comments
No comments yet.
RSS feed for comments on this post.
Sorry, the comment form is closed at this time.