June 20, 2016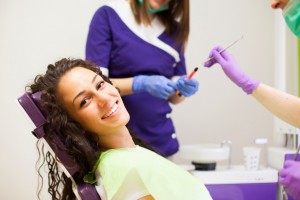 You take great care when practicing oral hygiene at home to protect your beautiful smile from damage. However, if you aren't visiting your dentist in Allentown twice a year, you're placing the health and beauty of your smile at risk. Brushing and flossing your teeth daily at home is only half of the care your teeth and gums need to stay healthy. While many people don't believe it's important to visit their dentist regularly if they are properly caring for their teeth at home, regular dental visits are vital. At Bradford Young Family & Cosmetic Dentistry, we encourage you to visit the dentist twice a year to protect your beautiful smile.

Importance of Regular Dental Visits
Just as brushing and flossing are an important component to preventative care, so are regular dental cleanings and checkups. During routine visits, we thoroughly clean the teeth to remove any accumulation of plaque or tarter buildup. Even with the best brushing and flossing, there are still many areas in the mouth where a tooth brush and floss can't reach. During routine cleanings, we clean the areas you may have missed. By doing so, we reduce your risk for tooth decay and gum disease.
We also conduct thorough evaluations of your mouth, which often includes imaging technology. With imaging technology, we are able to detect potential areas of concern or damage that aren't visible to the naked eye. As a result, we can provide the appropriate intervention to stop a problem before it starts. Should a problem have already developed, like a small cavity, we will provide promote treatment to treat the problem before it turns into a bigger problem. As a result, the treatment you receive will be less invasive and protect your teeth and gums from further damage.
During your appointments, we also offer many preventative treatments to stop damage before it even starts. With dental sealants and fluoride treatments, we are able to better prevent tooth decay by keeping your teeth strong and healthy.
Should you have prior restorations, we will check the restorations to ensure they are functioning as they should. If a filling has cracked or a crown has become loose, we will quickly fix the restoration so it continues to provide your teeth with the protection, function, and appearance you need for a beautiful smile.
Your routine visits may also include specialized procedures, such as oral cancer screenings. Regular oral cancer screenings allow us to find cancerous and precancerous cells earlier so you can begin the appropriate treatment right away for a more promising prognosis.
Your Dentist in Allentown
As your dentist in Allentown, we are committed to personalized and complete dental care to protect your beautiful smile. To keep your teeth and gums as healthy as possible, you need to visit our office twice a year for regular checkups and cleanings. We offer the general and family dentistry services you need for a lifelong healthy, beautiful smile.
If you need to schedule a regular cleaning or checkup, please call our office at (610) 439-1363 to schedule an appointment.
Comments Off on Your Dentist in Allentown Explains the Importance of Visiting the Dentist Twice a Year
No Comments
No comments yet.
RSS feed for comments on this post.
Sorry, the comment form is closed at this time.