March 23, 2020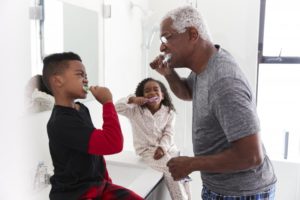 Are you normally diligent about visiting your dentist in Allentown every six months for a checkup and cleaning? In response to the COVID-19 crisis, dentists across the country are cancelling all elective dental care, including preventive and cosmetic treatments, in an effort to keep their patients and staff safe. This means that there's no telling when you'll be able to get a professional cleaning again. Read on to learn about five tips that can help keep your oral health on track while you wait to visit your dentist again.
Maintaining a Nutritious Diet
While you're self-isolating, it may be tempting to frequently snack on convenient processed foods like potato chips. This habit doesn't just impact your overall wellbeing, but it also can increase your risk of developing cavities. Processed foods are often high in sugars and carbohydrates, which are harmful oral bacteria's favorite food to feed off of. Frequently exposing your mouth to these substances can create the perfect environment for bacteria accumulation.
Sticking to Your Normal Routine
Now that you're home more often, you've likely noticed your daily routine starting to change. Although you may be tempted to put some of your habits on hold in order to accommodate all of the change in your life, it's important to continue brushing and flossing daily to prevent oral health problems from developing.
Changing Out Your Toothbrush
Did you know that the ADA recommends changing out your toothbrush once every three months or whenever you get sick? This is to prevent the accumulation and transfer of bacteria to your mouth as well as keep you from becoming re-infected if you just got over being sick.
Don't Put Off Flossing
In a survey conducted in 2016, analyzed by U.S. News, results showed that 32 percent of people don't floss their teeth. This is one of the most important parts of your daily hygiene routine and is responsible for cleaning a large portion of the surface of your teeth that your toothbrush isn't able to reach. If you're a part of that 32 percent statistic, you can take the extra time you're spending in self-isolation and dedicate it to developing the perfect flossing technique.
Brushing With the Right Technique
Many people aren't aware that when you brush your teeth, there's a special technique to clear the most plaque and food debris from the surface of them. Place your brush at a 45-degree angle to your gums and teeth and use slight pressure while creating short back-and-forth motions. Be sure to reach behind your teeth and brush as well. You can do this by placing your toothbrush at a 90-degree angle. Brushing your teeth for at least two minutes, twice each day, is recommended by the ADA to keep your teeth and gums healthy.
Although COVID-19 has changed many aspects of your life, it's important to stay on top of your oral hygiene, especially because you won't be able to receive professional preventive care from your dentist in Allentown until they open their doors again.
About the Author
Dr. Bradford Young has been practicing dentistry since 2002, giving him years of experience treating a variety of oral health problems. He is an active member of several professional organizations, including the American Dental Association, which keeps him up-to-date with the latest advancements in his field. He enjoys getting to know each of his patients and providing them with high-quality preventive dental care. For questions or to schedule an appointment, visit Bradford Young Family & Cosmetic Dentistry's website or call 610-439-1363.
Comments Off on 5 Tips to Keep Your Oral Health On Track While Self-Isolating
No Comments
No comments yet.
RSS feed for comments on this post.
Sorry, the comment form is closed at this time.