January 2, 2018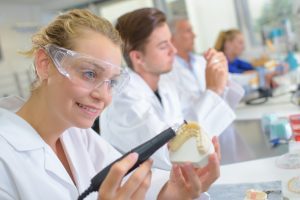 When cosmetic dentistry is mentioned, the first thought that comes to mind is usually aesthetic appeal, but things have changed. New advances have broadened the scope of this field, providing more functional benefits. Your cosmetic dentist in Allentown welcomes you to this new reality, where you can actually get better service from your teeth and a visually appealing smile all wrapped in one. Read on to learn more about these amazing new breakthroughs.
New Advances in Cosmetic Dentistry
There are quite a few more recent advances, creating a new type of hybrid care that benefits you because they have restorative and aesthetic qualities. This addresses any reservations you may have had in the past because you felt like you had to make a choice between function and aesthetics. Well now the only choice you have to make is finding the right professional to deliver this expanded form of oral care.
Composite Bonding
This procedure addresses both the look and function of your teeth by using a resin substance to restore worn or decayed material. Aesthetically, the tooth-colored compound ends the dependence on amalgam fillings (made from metal mixtures), allowing you to regain function while maintaining a natural look.
Crowns
Another idea to keep in mind, is that the lines between restorative and cosmetic dentistry are becoming more blurred, which is great for you as a patient. An example is with dental crowns. They do an excellent job of covering your original crowns, rejuvenating the tooth's look and restoring its function.
Full Mouth Reconstruction
The full mouth reconstruction procedure delivers the ultimate cosmetic-restoration hybrid service. It not only improves your smile, but also addresses functional issues. An example is the dental implant process, which rebuilds and restores the integrity of your jaw with surgically inserted titanium posts. But it also delivers a golden smile because either crowns or bridges can be permanently attached.
Inlays and Onlays
These two processes also offer hybrid care, as they are used in procedures that require more than a simple filling, but not enough to warrant a full crown restoration. The inlay is similar to a filling and is used in the cusp tips of the tooth, while an onlay is reserved for more substantial repairs and can cover more than one cusp. From a cosmetics perspective, either process leaves you with a natural look, as they both use tooth-colored resin.
You've been told all your life that you can't have your cake and eat it too. Well maybe we have to rethink that way of viewing things, because these new hybrid services prove that you can have the best of both worlds. Reach out to your dentist in Allentown to learn more about how you can take advantage of these breakthroughs and become the best version of yourself.
About the Author
Dr. Bradford G. Young received his undergraduate degree from Villanova University. He then went on to earn his Doctor of Dental Medicine degree from the University of Pennsylvania Dental School. A member of the American Dental Association, Dr. Young practices at Bradford Young Family & Cosmetic Dentistry and can be reached for more information through his website.
Comments Off on Amazing Breakthroughs from Your Cosmetic Dentist in Allentown
No Comments
No comments yet.
RSS feed for comments on this post.
Sorry, the comment form is closed at this time.