August 24, 2016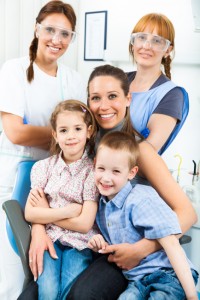 As children in Allentown get ready to head back to school for another year of fun and learning, now is the perfect time to make the most of your dental insurance by schedule a dental appointment. As your child prepares their backpack and school supplies, prepare their mouth with a healthy smile. Starting from before the age of two, children need to visit the dentist twice a year for dental checkups and cleanings. These regular appointments are routinely covered under the majority of dental plans for little to no cost. As your child gets ready to head back to the classroom, use your dental insurance to ensure they start the year with a beautiful smile with a checkup from their dentist in Allentown, PA.

Affordable Preventive Care
One of the main reasons people do not visit the dentist regularly is due to the cost. However, by using your dental insurance, the cost of a preventive appointment is minimal. In fact, many dental insurance plans cover 100 percent of preventive care, which includes an exam, cleaning, x-rays, and sealants for children. Each of these aspects are vital to protecting your child's smile from damage so they can smile confidently throughout the year.
Importance of Regular Dental Appointments
Often, people underestimate the importance of routine exams for children because baby teeth are eventually lost. However, regular visits to the dentist are a critical part of your child's oral development and health. With the baby teeth acting as place holders and aiding the development of the permanent teeth, the primary teeth must be kept strong and healthy to set the foundation for the permanent teeth.
During routine exams, we check the development and health of your child's teeth through a visual examination and the use of x-rays. By doing so, we are able to ensure the teeth are developing properly while detecting potential areas of concern sooner. With prompt detection, we will provide the appropriate intervention to lessen the need for more invasive treatments in the future. In addition, we offer preventive services, like fluoride treatments and sealants, to help protect your child's teeth from damage.
Routine visits also include professional cleanings. Even with the best home care, there are areas of the teeth that brushing and flossing miss. With a professional cleaning, we will thoroughly clean the teeth to prevent the development of cavities and gum disease.
We take pride in setting the right foundation for lifelong oral health in children. During the appointment, we take the time to get to know your child and educate them about the importance of oral care. With a trusted dentist and the right education, together we will work to ensure your child develops a strong, healthy smile that lasts a lifetime.
Your Dentist in Allentown PA
At Bradford Young Family & Cosmetic Dentistry, we want to see your child walk into their classroom this year with a confident, healthy smile. As you prepare for them to head back to the classroom, make sure a trip to your family dentist is on the to-do list. Contact us today to schedule an appointment.
Comments Off on Visit Your Dentist in Allentown, PA Before Heading Back to School
No Comments
No comments yet.
RSS feed for comments on this post.
Sorry, the comment form is closed at this time.