October 2, 2018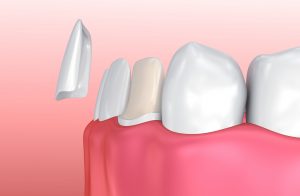 Baseball season is ending but you want to squeeze in one more Lehigh Valley IronPigs game. At the stadium, just as you are about to bite into a hot dog slathered with ketchup and mustard, the cameras catch you and project you and your friends onto the big screen. Now is your chance to wave and smile – but something is holding you back. If you do not feel confident about your smile, being the center of attention can cause severe social anxiety and stress. Fortunately, modern dentistry offers a range of treatment options, such as porcelain veneers in Allentown, to fix the minor flaws in any smile.
What is a Porcelain Veneer?
Veneers are thin, custom-designed porcelain shells that fit snugly on the front of teeth to fill in gaps in a smile or hide stained or misshapen teeth. To firmly bond a veneer to the tooth, a dentist must first remove a very small amount of tooth enamel – usually less than a millimeter. The porcelain veneer is then applied to the top of the tooth and fused together using a light-sensitive resin and special light.
Some of the many benefits of porcelain veneers include:
Natural appearance
Fast procedure
Bright white smile
No recovery time
How Do I Care for Porcelain Veneers?
With an average life of between 7 and 20 years, porcelain veneers offer a long-term solution to improving imperfect teeth. Moreover, proper care can help extend the life of your new smile. Here are 3 tips for maintaining porcelain veneers:
Brush your teeth twice a day for a full two minutes each time with a non-abrasive fluoride toothpaste and floss at least once a day
If you grind or clench your teeth at night, talk to your dentist about getting fitted with a nighttime bite guard to prevent damaging your veneers
Return to your dentist for regular checkups so they can inspect your veneers for any signs of potential failure and polish them with a specially formulated, non-abrasive paste
Am I a Good Candidate?
Whether you want to restore discolored teeth to their natural white color, hide a misshapen tooth or even recreate an entire smile, porcelain veneers can restore the appearance of your smile and the self-confidence to your personality. Dental veneers are a proven solution for a variety of common dental imperfections, including:
Chipped or cracked teeth
Discolored teeth
Gapped teeth
Misshapen teeth
Living with imperfect teeth can negatively impact your self-confidence and make social interactions fraught with anxiety. However, after partnering with a cosmetic dentist in Allentown, you will be delighted to show off your smile – even on the IronPigs' big screen!
About the Practice
An Allentown native, Dr. Bradford Young has been providing quality and patient-centered dental care in the community for over 12 years. He knows the importance of having a beautiful smile, which is why he offers porcelain veneers for patients who want to fix any dental imperfections. To learn more about Dr. Young and his practice, visit his website or call the office today at 610-439-1363.
Comments Off on How Long Do Porcelain Veneers in Allentown Last?
No Comments
No comments yet.
RSS feed for comments on this post.
Sorry, the comment form is closed at this time.