July 17, 2017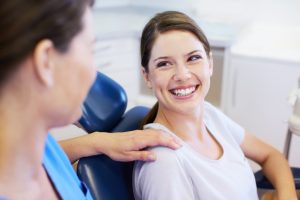 Going to the dentist every six months sometimes feels like an inconvenience, especially when you're teeth aren't hurting. Your schedule is busy and hectic most days, and you'd love to limit those visits to once a year – that should be sufficient, right? Unfortunately, visiting your Allentown dentist once is year is not enough and here's why.
The Cost of Avoiding the Dentist
Many people follow the philosophy of visiting the dentist only when they have pain, and the problem with this is that by the time you're feeling pain, your dental issue is probably pretty severe. Believe it or not, most dental issues such as tooth decay, periodontal (gum) disease, and even a dental infection begin with very little pain or symptoms.
Your dentist in Allentown can detect these issues much earlier than you can especially since we screen you for many of these concerns at every dental checkup. Early detection allows you the opportunity to repair your tooth with much less invasive and costly treatment procedures.
The Oral Systemic Connection
Another reason to visit your dentist every six months is to prevent gum disease. Over half of American adults are affected by periodontal disease in some form, and it's the leading cause of tooth loss for adult patients. The bacteria that causes gum disease has also been directly linked with other health concerns such as diabetes, high blood pressure, cardiovascular disease, and vice versa.
Because we know understand that your oral health is directly related to your overall health and well-being, we can tell you that there's never been a more important time to take good care of your oral health, and consistent six month appointments help you do this.
What Happens at My Six-Month Appointment?
There are a few important things that take place during your regular cleanings and checkups. First, your dentist will screen you for issues such as oral cancer, gum disease, tooth decay, and cavities ensuring that we detect these concerns in their earliest stages.
Next, our hygienist cleans your teeth and removes the excess plaque buildup that causes many of these issues. We'll also take the time to educate you about your oral health, and the proper brushing and flossing techniques you can use to make the most of your home care routine.
Call Us to Schedule Today!
Don't ignore your health! If it's time for your routine cleaning and checkup, give us call today to schedule.
Comments Off on How often do I Actually Need to visit my Allentown Dentist?
No Comments
No comments yet.
RSS feed for comments on this post.
Sorry, the comment form is closed at this time.