April 12, 2022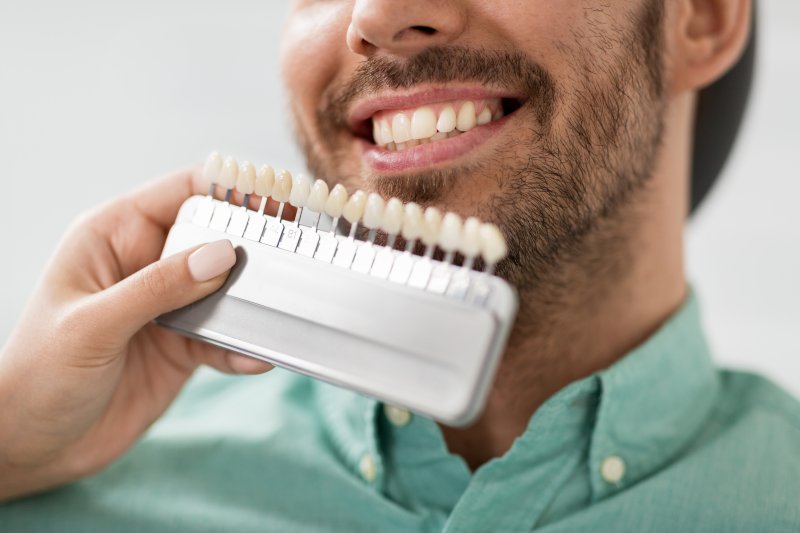 Porcelain veneers are an excellent procedure that can beautify any patient's smile. However, you should assess whether they're right for you before treatment. After all, you'll want to ensure that the veneers' benefits meet your needs before you pay the necessary costs.
To that end, here are five facts about veneers you should know in advance. Keep them in mind when you make your final choice!
Fact #1: They're Irreversible
To ensure your veneers look natural and effortless, a portion of your enamel needs to be removed. While it's a small amount, it's enough that your teeth won't look complete without them moving forward. That's why they are considered irreversible.
Don't worry – a skilled cosmetic dentist will go above and beyond to ensure your veneers perfectly fit everything from your face shape to your personality. Plus, you will be given temporary veneers before your permanent ones are cemented in place, ensuring you can give your new and improved smile a "test drive" beforehand.
Fact #2: They're Long-Lasting
Veneers may require a higher upfront investment than other cosmetic dental services, but they also last significantly longer. In fact, the average lifespan is 15 years! With proper care, yours may last for well over two decades. So, make sure to brush your teeth each morning and evening, floss daily, and get a dental cleaning every six months.
Fact #3: They Can Partially or Fully Cover a Tooth
Depending on the tooth, you may not need a veneer created to cover the entire thing. Instead, your dentist might implement partial veneers to elongate the tooth or correct issues with broken teeth. Full veneers are only necessary to cover teeth that are discolored or that have cracks or chips closer to the gum line.
Fact #4: You Can Get One or Many
You aren't required to get veneers for all your teeth when seeking treatment. You may only need one to correct a single pesky tooth. On the other hand, you're welcome to get a complete set to transform your smile entirely! Whatever the case, your dentist will work with you on the number and range you prefer and recommend which teeth would benefit from veneers the most.
Fact #5: They Can Be Applied in One Office Visit
Many dentist offices can complete veneer placement in a single visit. However, the visit will likely take several hours, especially if you're getting multiple veneers. Your dentist will numb your mouth with local anesthesia to make the process more comfortable.
So long as you remember these facts, you can reasonably decide when and whether you should get porcelain veneers for your smile!
About the Author
Dr. Bradford Young is a dentist practicing in Allentown, PA, having earned his Doctor of Dental Medicine from the University of Pennsylvania Dental School. He has worked at his practice for over 12 years and is a member of the American Dental Association, Pennsylvania Dental Association, and Academy of General Dentistry. Dr. Young has found it highly fulfilling to see the positive impact his Allentown office has had on the lives of his patients. He currently practices at his self-titled clinic and can be reached at his website or by phone at (610)-439-1363.
Comments Off on 5 Facts to Know Before Getting Porcelain Veneers
No Comments
No comments yet.
RSS feed for comments on this post.
Sorry, the comment form is closed at this time.