December 27, 2019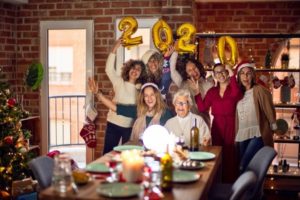 Believe it or not, 2020 is right around the corner. You're making plans for the year ahead and jotting down your New Year's Resolutions to start with your best foot forward. As you commit to losing weight, eating healthier, or paying off debt, the health of your smile probably isn't at the top of your list. With your oral and general health going hand-in-hand, there's no better time than now to recommit to your smile. Here are 4 healthy dental habits to start in the new year.

1. Brush your teeth twice per day.
You've heard from a young age you need to brush your teeth twice a day, but it's easy to climb into your bed after a long day without reaching for your toothbrush. If you skip brushing at night, you're not alone. In fact, as much as 30% of Americans don't do it either. Although it may not seem like a big deal, skipping brushing before bed allows harmful bacteria and food particles to linger in your mouth. This increases your risk of several issues, like tooth decay, gum disease, and bad breath.
2. Floss every night.
Even with the best brushing techniques, there are areas in your mouth your toothbrush can't reach, which is why flossing is important. If you're like many Americans, you might prefer to clean toilets than floss your teeth. If you're skipping flossing, you're leaving as much as 40% of your tooth's surfaces uncleaned each day. This drastically increases your risk of gum disease, which is the leading cause of tooth loss in the U.S.
3. Visit your dentist twice a year.
The American Dental Association recommends you visit your dentist at least twice a year, even if you don't currently have any concerns. Routine dental care allows your dentist to monitor your teeth and gums to keep your smile healthy. This reduces the likeliness of needing a costly treatment in the future. In fact, every $1 spent on prevention can save you as much as $50 on restorative or emergency services.
4. Wear an athletic mouthguard.
If you participate in sports, an athletic mouthguard is an essential piece of protection. You wouldn't head out onto the football field without a helmet, so why leave your teeth at risk of injury? An athletic mouthguard acts as a protective barrier for your teeth and gums to reduce the risk of an oral health emergency, like a knocked-out tooth. Not to mention, research shows it can also reduce your risk of a concussion.
Invest in Your Smile This Year
As you plan for the new year, make sure a healthy smile is at the top of your list. Commit to your oral health at home and maintain your dental cleanings to keep your teeth and gums healthy.
About Dr. Bradford G. Young
Dr. Bradford G. Young earned his Doctor of Dental Medicine in 2002. He has completed continuing education courses regularly throughout his career. He offers the advanced solutions his patients need for optimal oral health. If you're ready to recommit to your smile, start with a cleaning and checkup. Contact our office today for an appointment.
Comments Off on 4 Healthy Dental Habits for the New Year
No Comments
No comments yet.
RSS feed for comments on this post.
Sorry, the comment form is closed at this time.